Acest
post
a fost initial publicat pe
aceasta pagina
Cool Celebrity Skin images
Some cool celebrity skin images:
Where is the Bus Laney? that suitcase looks heavy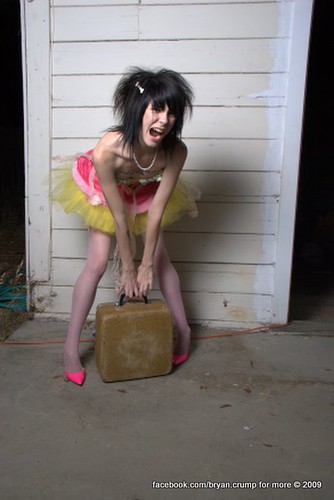 Image by The Crump Effect We all got together to do body painting and have Laney model Ceramic Corsets designed by my friend, Nicole Moan. It was a crazy short time we had and we did most of it last minute planning, resorting to shooting in one of Nicole's friends back yards. We had already lost the light of the day for shooting and did not have a studio, so we improvised. Little did we know what kind of success all of us would start to have. Congratulations to Laney on all her recent accomplishments. What would you create if you worked with Laney, me, Nicole, or all of us as a team? Remember to book your makeup artists in advance. We need time to prepare, design, order supplies, etc. We don't always have what you need in stock and communication makes all the difference. We often tell our clients that big projects and good things take time to plan and prepare. There are big things coming in the future. Are you ready? Nicole is still doing shows all across the nation with her Ceramic Corsets and even fashion designs. My team and I are working on new body painting projects, classes, motivational videos and more. If you want to keep up with us, check out the attached links. Recently we got sponsored by SNAZAROO, one of the world's largest body paint suppliers. Nicole and Laney have both been on TV a lot lately. I need to catch back up. Been hiding in the woodworks for too long it seems. Model: Laney Parkhurst (Chantal) ( Pinup Model/Muse, SYFY FaceOff Makeup Contestant, Suicide Girl and much more..) www.makeupbylaney.com Ceramic Corset designed and created by: www.nicolemoan.com Bryan Crump Photography | Kaizen Dreams LLC. OKLAHOMA CITY, OKLAHOMA Improve your Dreams | Improve your Life!!! Follow my work on Facebook Twitter | 500px
Live From Times Square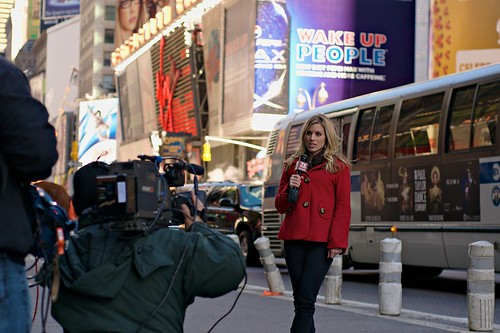 Image by andy in nyc TV Guide Network reporter (and host of Yahoo! webcast "The 9"), Maria Sansone films a piece live in Times Square on Valentine's Day. I have to say I'm liking the skin tones I'm getting with Aperture 2.0's conversion of my D300 RAW files. Either that or she just has great make-up… 🙂 Better bigger.